The 2021 New Years eve morning presented it self with a dramatically different weather than Christmas day. When the alarm clock went off there was a deafening sound of a torrential downpour. Miraculously the rain held up as we we made our way to the harbour and seven OK dinghies launched in a short window with no rain. Once on the water no one cared if we got wet from below or from above. Claes Thomasson and Tomas Franzén dropped two markers from the club RIB and the red outer channel marker was used as one end of the starting line.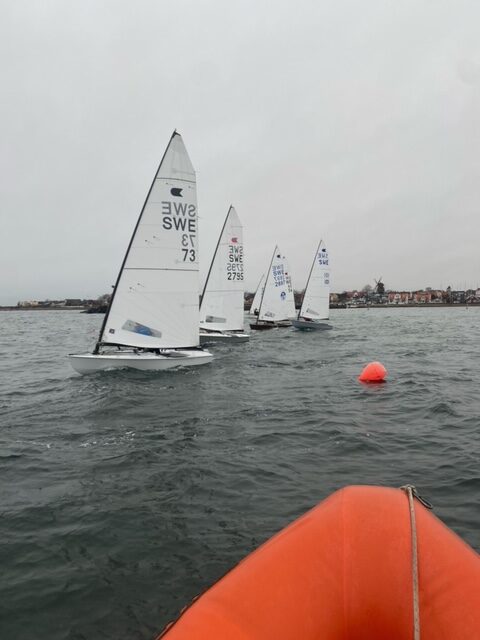 Photos by Cleas Thomasson
We managed four quick races with 2 minute starting sequences and little time to spare in between. Tight racing kept everyone warm and on their toes. From a position further back it looked like Benjamin Hammerö came out on top closely followed by Patric Mure and Christian Scharup. Thomas Uziel, Jonas Langner, Johan Magnusson and Pontus Gäbel made the most of the the last day of 2021 on the water outside Viken. A welcome send of into the new year where we all look forward to more OK dinghy racing and camaraderie.
Happy new 2022 greetings from OKWiken.se!